The Confederate Hero of Waldeck
by Harvey Meiners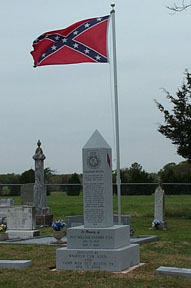 William Guehrs was born January 1841 in Brandenburg Prussia. Guehrs was a young German immigrant who arrived in Texas shortly before the Civil War and made his home at Waldeck (then known as Long Prairie) in Fayette County.
On October 12, 1861 Guehrs, along with his friend, Conrad Frosch, enlisted in Creuzbauer's Battery of the Confederate Army. The battery was made up of German Texans from Fayette County.
Edmund Creuzbauer, a former Prussian artillery officer, organized Creuzbauer's Battery. It was composed of around 150 men, 4 cannons, 72 horses, and 39 mules.
After serving a short tour of duty on the Rio Grande near Brownsville they were transferred to Fort Griffin, Sabine Pass.
On May 4th, 1864, the battery, along with an attachment of infantry and cavalry, received orders to move to Calcasieu Pass, Louisiana, and two miles inland from the Gulf and south of Lake Charles. After 25 miles of difficult travel through marsh and sand grassland they made contact with the enemy on the 6th of May 1864. The enemy consisted of two Union gunboats, the Granite City and the Wave. The mission of the gunboats was to impress food and supplies from the residents.
By dawn of May 6th, the guns were in position some 1200 yards from the Granite City; farther up to the left was the Wave.
At Gun #1, Sergeant Alex von Rosenburg prepared his small crew for action, at his side stood his brother, Walter, as gunner. Cannoneers were John Winn, William Guehrs, Will Peters and the Kneip brothers, Henry and William, from Round Top.
With the horses and mules safely in the rear, the crew positioned the gun, sighting the barrel towards the Granite City. Private Guehrs "wormed" the barrel of grit and sand, then loaded the first round. The crew of four waited for their signal to fire in the gray light of the May morning.
The order came and the guns roared their surprise. Six or eight times they fired across the water before the enemy returned with deadly fire in the midst of Gun # 1. William Kneip was killed outright and William Guehrs was severely wounded in the leg. The crew frantically moved the gun into another position and continued to fire. Henry Kneip continued in spite of the loss of his brother, because he felt desperately needed. William Guehrs, fighting pain and blood loss, refused to be taken to a field hospital and continued to "worm" load and fire his cannon in a kneeling position in the sand and muck of the swamp.
The battle lasted 75 minutes until both the Granite City and the Wave surrendered. One ship was hit 65 times. Both captured ships were returned to service for the Confederate cause.
The battle won, Guehrs let his friends assist him to the field hospital. His wounds were treated, but the surgeons quickly realized that he needed extensive care for rehabilitation.
With a medical furlough in his pocket and accompanied by his friend, Frosch, Guehrs left Creuzbauer's Battery to recuperate at Frosch's home in Waldeck.
He lingered all summer suffering from complications and infections. The injuries finally proved too much and on September 3, 1864 he passed away.
Today, Private Guehrs lies buried in the Waldeck Cemetery yet, those who seek his last bivouac search in vain for the stone that marks his grave. There are many buried in the northern part of the cemetery and wooden crosses only marked many graves during earlier years. Grass fires and time has contributed to the loss of these locations, but somewhere in this open area lies this Confederate hero, only one of four Confederate Medal of Honor recipients in all of Texas.
The memory of Private William Guehrs is not forgotten as the C.S.A. Medal of Honor was posthumously awarded and dedicated in 1996 at the Imperial Calcasieu Museum of Lake Charles.
It is the hope, desire, and goal of the community of Waldeck to be able, with the help of interested Veterans organizations and others, to erect a fitting monument in his honor, commemoration the valor of this immigrant cannoneer who ignored a mortal wound to fight for his adopted country in the hour of peril.

Draft Resistance in Fayette County
by Gary E. McKee
1861, the secession of the Southern states of America begins. Texas was the seventh state to leave the Union and the last to leave before the firing on Fort Sumter.
Fayette County was the home to a large amount of newly arrived European immigrants, who had left their homeland for a number of reasons including continuous civil wars and forced military service for the young men. These new Americans were actively trying to scratch out a living for their families on their small farms. When the statewide vote for secession was held February 23, 1861, the voters rejected leaving the Union by a margin of twenty, out of 1180 votes cast. In 1859, there was 250 German voters in the County. While they probably voted pro-Union, this number indicated an equal number of "American" voters.
In April of 1862, the Confederate Conscript Law was enacted requiring all men between the ages of eighteen and thirty-five to serve in a branch of the military for three years. The men of Fayette County reacted in several ways: some joined up and served heroically on battlefields such as Glorietta Pass, Vicksburg and Shiloh; a large number joined local Texas State Troops, which were formed to protect Texas from invasion, and several men disappeared into the deep woods to wait out the war.
In 1862, local Confederate General William G. Webb received information that local citizens, of mostly German ancestry, were holding meetings to oppose the draft. In January of 1863, a delegation of Germans visited General Webb and presented a written declaration. This brave letter of defiance is an excellent test of democracy in time of war, but also gives a great snapshot of life during this time:
Brig. Gen. William G. Webb, La Grange

At a public meeting held by the citizens in Biegel Settlement, Fayette County, Texas, on January 4, 1863 the following declaration was adopted as an expression of the sentiments of said meeting:

The measures taken by the Government to protect this State against invasion are so far-reaching and serious in their consequences that they fill our minds with dread and apprehension.

The past has already taught us how regardlessly the Government and the county authorities have treated the families of those who have taken the field. We have been told that they would be cared for, and what put of this time has been done? They were furnished with small sums of paper money, which is almost worthless, and which has been refused by men for whose sake this war and its calamities were originated.

Last year we made tolerably good crops; the prospect for the next is not very encouraging, and we cannot look forward with indifference upon starvation, which we apprehend for our wives and children.

Although it has been said that we will not be needed for more than three months, the time for planting will then be over and our children may go begging for the small pay which we are to receive for our services is insufficient to purchase bread for our families and pay for it. We and our families are almost destitute of clothing, and have no means of getting enough to protect us even imperfectly against the cold, from which cause sickness and epidemics result, as has been experienced in the Army, where more men have fallen victims of disease than by the sword of the enemy.

Last autumn we applied to procure cloth from the penitentiary, but up to this time we have not been able to obtain any, whereas Negro holders, whom we could name, can get such things and fetch them home. For these reasons we sympathize with all the unfortunate who have to provide for their own maintenance, and hope that our authorities will look upon us as men and not as chattels. With what spirit and what courage can we so situated fight, and that, moreover, for principles so far removed from us?

Besides the duty of defending one's country there is a higher and more sacred one—the duty of maintaining the families. What benefit is there in preserving the country while the families and inhabitants of the same, nay, even the Army, are bound to perish in misery and starvation?

In view of the foregoing we take the liberty hereby jointly to declare that unless we obtain a guarantee that our families will be protected, not only against misery and starvation, but also against vexations from itinerant bands, we shall not be able to answer the call, and the consequences must be attributed to those who caused them.

Furthermore, we decline taking the army oath (as prescribed) to the Confederate States, as we know of no law, which compels Texas troops, — to take the same.

It is the unanimous wish of those assembled in this meeting to apply to Brig. Gen. W. G. Webb to use all of his influence to the effect that the men now drafted for militia service be permitted to stay at home until they have finished planting.

By authorization and in the name of about one hundred and twenty citizens.

C. AMBERG, H. BAUCH, R. HILDEBRAND

H.KRALE, H. HASSE.

I do hereby certify the above and foregoing to be a true and correct copy of the original (translation).

JAMES PAUL,
Private Secretary
This letter prompted General J. B. Magruder to declare martial law in Fayette, Austin and Colorado counties. General Webb notified Texas Governor, Francis Lubbock, who immediately visited La Grange for several days and gave the German delegation a very plain, positive talk. Cavalry troops from Arizona were brought in to patrol and enforce the draft. By the time the troops arrived, most of the Germans had gone into the militia, which enabled them to stay in the area and tend to their crops and families.
German Draft Resistance in 1860s Central Texas
by Gary E. McKee

The role of Germans in the Civil War has been portrayed mostly as anti-war agitators. The dissidents and their activities made good headlines and instilled a blanket condemnation of Germans by the Anglos. After much research, this historian has concluded that most Germans had responded as any human might do under these circumstances. It was based on the individual, not his ethnicity.
In 1860, in Texas, out of a population of 600 thousand, there were 20,000 citizens who were born in the German states. At this time Texas was settled only 100 miles west of Interstate 35 with German founded Fredricksburg being the frontier. The Germans stood out because they spoke their native language and had not yet integrated into the political/business realm of Texas.
It is true that some Germans had left their homeland because of required military service, and when forced to change allegiance and take arms against the nation that had offered them salvation, the majority acted predictably: they resisted. Some men disappeared into the dense river bottoms to wait out the war and were supported by their families. The number of resistors was enough that they formed small encampments with a military structure. Some men who had fought, been wounded and sent home to convalesce, joined these bands rather than return to the army.
It must be noted that this resistance was not uniquely against the Southern cause by the fact that the New York City draft riots of 1863 were led primarily by German citizens (Germans composed 25% of New York City). Federal troops were recalled from the battlefield to suppress the rioting in which over a thousand citizens were killed. In Ohio, Germans attacked Union draft officers and lynched them. This action contrasts greatly with Austin County, Texas where Germans merely beat the Confederate draft officers with branches and iron rods.
Another popular explanation of German draft resistance was the opposition to slavery. In 1850, there were twelve German slaveholders in Austin and Fayette counties, roughly one-tenth of all German property owners. Most owned fewer than five slaves, but one German owned fourteen and another twenty-seven slaves. Friedrich Olmsted, one of the most astute of contemporary German observers noted that "few of them [Texian Germans], concern themselves with the theoretical right or wrong of the institution [slavery], and while it does not interfere with their own liberty or progress, [they] are careless of its existence." Most Germans arrived in Texas fiercely independent and financially strapped. Once they found land they immediately began farming to support their families and had little time for politics or other activities outside of their self sufficient, secluded farms.
This lack of support for the new government bred suspicion and paranoia from the established Anglo/Texians. The newspapers periodically ran editorials questioning the patriotism of the newly arrived immigrants and their lack of desire to learn English.
When the statewide vote for secession was held in February,1861, the Fayette County voters rejected leaving the Union by a vote of 580 for secession and 626 against secession. Earlier census revealed approximately 250 German voters in the county. While they probably voted pro-Union, this number indicated a more than equal number of "American" voters.
In June of 1861, when the war draft was announced, General William G. Webb of La Grange reached out to the Germans by including in his General Order #1 that: "Our adopted citizens from the Old World also have brave hearts and stout arms and are ready and anxious to meet the common foe..."
Fayette County responded by organizing 19 home guard companies of which one was named the German Company. Two companies of men volunteered for the regular army, of which there is a sprinkling of German names. The quantity of Germans in the regular army is noted by the Confederacy providing training manuals in German. After it became obvious that the war was going to be a long, drawn out affair, the draft numbers and length of service was increased. This forced service increased the resentment of the German population and they began holding organized, democratic styled meetings.
Numerous reports reached General Webb of large bands of armed men, meeting in Fayette, Austin and Colorado Counties to devise methods of resisting the draft. Abolitionist and future reconstruction governor A.J. Hamilton, then practicing law in La Grange, was rumored to be assisting the Germans and organizing a slave revolt.
In November, 1862, the enrolling officer for Austin County sent Webb a list of thirty two men who were all German, except four. In his words: "They are remarkably stubborn, and I am satisfied do not intend to submit to enrollment... Sundry meetings have been held to concert measures of resistance..the meetings were held in secret...the last, a public meeting, in which they resolved to petition to the Governor, asking that their families be provided for and themselves armed and clothed, as a preliminary to their submitting to the laws and entering the service. These meetings were largely attended by 400 to 500 persons."
On January 2, 1863 , the result of a meeting held in Biegel (between Fayetteville and Rutersville) was a letter, written in German, addressed to General Webb. The letter focused on the impact of the draft on those left behind rather than the character of the men. ("Besides the duty of defending one's country there is a higher and more sacred one—the duty of maintaining the families").The letter stated that they were organized and made valid points against being drafted. The group stated that the government has failed to provide adequate support for the families left behind as the draft would occur just prior to planting time ("we cannot look forward with indifference upon starvation, which we apprehend for our wives and children"). The group pointed out that their families were unable to obtain cloth from the penitentiary looms, yet prominent slave owners had full access. The Germans recounted their desire to be free men ("that our authorities will look upon us as men and not as chattels. With what spirit and what courage can we so situated fight, ... for principles so far removed from us?"). After stating that they refused to take the oath of allegiance to the Confederacy the tone of the letter softened by requesting General Webb to delay the draft until planting time was over. The letter was signed by approximately 125 men.
This example of democratic principles triggered martial law in Fayette County and troops with a cannon were brought in to enforce the draft. Governor Lubbock visited La Grange and talked to the leaders of the Germans. This combination quieted down the situation, but General Webb deduced that the real reason of the organized resistance was that Union spies were working in conjunction with the Yankee invasion force that had just captured Galveston. The Yankees would them make a swift run through the heart of Texas while home guard units were distracted by the German resistance efforts. This plot was foiled by the recapture of Galveston by Confederate forces under Colonel Thomas Green from Fayette County. Webb concluded that "this movement is not confined alone to Germans but men of our own race and country".
The details of this "uprising" was not brought to light until Union prisoners at Hempstead began naming names and five local men were arrested. After a controversial civil trial the men were found not guilty, however the military courts ordered them banished from Texas. They were escorted to Eagle Pass and forced to enter Mexico.
The struggle to stay alive and care for the returning veterans of all ethnicities in this harsh time occupied citizens as the war wound down.
The blanket descriptive term of Germans as used by the authorities to describe the dissidents, overlooks the German contributions to the southern side of the war.
The German trait of mechanical talent was recognized as necessary to the economic survival of the area and war effort. There were numerous requests to be exempt from the draft by the men who maintained the cotton gins, grist mills, tanneries, and factories which produced war materials. These exemptions had to be signed by a number of local witnesses attesting to the importance of these men. The witnesses were both Anglo and German.
The evidence of individuality comes from the considerable number of Germans who immediately joined the army. Their reasons varied from patriotism to "I'm 18 and this sounds exciting", which is the reason most men have volunteered for military service in America.
From the southern part of Fayette County, Louis Strobel (a German living in Ft. Bend County) raised a company which included many Germans, and was assigned to what would become known as Terry's Rangers. This unit of the 8th Texas Cavalry were used as "shock troops" in leading assaults in Kentucky, Shiloh, Murfeesboro, among others. Ironically, one of their officers was Thomas Lubbock, the brother of the Governor who had come to La Grange to smooth out the tension.
From the High Hill area, a company of Germans enlisted under Ernst Creuzbauer and they served uneventfully as an artillery unit along the Mexican border until ordered to the Louisiana-Texas border when the threat of a northern invasion became known in that area. Creuzbauer's men ambushed and captured two Union ships as they sailed from the Gulf through Calcasieu Pass to resupply from Union sympathizers in Louisiana. William Guehrs, who had very recently come to Texas from Germany, was severely wounded several times and was posthumously awarded the Confederate Medal of Honor, In Waldeck, there is a befitting monument to Guehrs bravery, who, severely wounded, remained at his cannon, firing shots into the Union boats. After the battle he returned to the Waldeck area to convalesce but died from his wounds in 1864.

Thomas Green, from Fayette County, raised several companies of men that included Germans from Fayette and Washington Counties, who followed him to battles in New Mexico, Galveston, and the Red River Campaign in Northern Louisiana, where General Green was killed.
Waul's Legion organized in Washington County, had several completely German companies which served honorably at the Siege of Vicksburg.
In summary, the German immigrants thrust into an unwelcome situation followed their own individual conscience and did what each thought was the best way to protect their families in their new home.
The Biegel letter was previous published in full at www.fayettecountyhistory.org in a Footprints of Fayette column.
For a full length version of this story please contact the author at fayetteishome@gmail.com.
The Volunteer Aid Society
by Donna Green
When the War of Northern Aggression began in April, 1861, many citizens of Fayette County chose not to join with their fellow Southerners in fighting the invading Yankees.
However, many residents of the county threw down their plows, tossed aside their tools, gathered up their weapons and kissed their families goodbye as they rode off to fight for what they believed in.
When these men and young boys left to serve in the War Between the States, they left their wives and small children to take care of and maintain their businesses and farms.
Often this was too much work for the frail women and young children. Businesses and crops alike failed. Soon many of the families were unable to provide even the simplest of needs for themselves.
Consequently, many of these families began to suffer from lack of food and clothing.
In August, 1861 many of the more prominent members of the county came together to form a society specifically aimed at aiding these unfortunate people. The group took the name The Volunteer Aid Society. They began to advertise in the local paper, The States Rights Democrat, for new members. The group met at the courthouse for the very first time on Saturday, Sept. 7, 1861. According to the newspaper, the objective of the society was: "To make adequate provision for the support for the families of our volunteers as may be needed."
In organizing a society such as this, the members were following the lead of many other counties in Texas in our area that had already established agencies for aiding the soldiers' families. In their ad in the newspaper, they stated: "There is an abundance of corn and beef in this county. None need suffer." Some of the more illustrious members of the society were: Judge Livingston Lindsay, who had a son-in-law, Benjamin Shropshire, fighting in the war; Granville J. Penn, who, himself was nearing the age of ninety; noted veteran of the Battle of San Jacinto, Joel W. Robison; General William G. Webb, who would himself eventually join the Confederate States Army; veteran of many early skirmishes and battles for Texas independence, John W. Dancy and newspaper publisher, Samuel McClellan, who would eventually gain notoriety as an outspoken critic of the war.
La Grange After the Civil War
By Marie W. Watts
While Nathaniel W. Faison, a local entrepreneur and large landowner, was adding to his fortune by buying and selling land and cotton, the area around La Grange was suffering severely from the aftermath of the Civil War and Reconstruction. The local economy entered a precipitous decline as cotton plantations suffered from the loss of slave labor. The price of land in Fayette County dropped from $6.15 per acre in 1860 to $4.50 in 1866. Consumer prices nationwide—for bread, pork, beef, butter, rice, salt, coffee, tea, coal, and cotton goods—were 90 percent higher than before the war, but wages did not keep up, advancing nearly 60 percent.
In 1868 a distant relative of Faison, James A. Peden, who lived in a nearby county, wrote to his sister, "It is the hardest times in this county...that ever was seen. No crops, no business. Merchants failing every day and worst of all no money. I have owing to me three hundred dollars. And I would this night take twenty-five dollars for the whole."
Newly freed African Americans had it no better; most ended up working on the land on shares, receiving one-third to one-half of the crop for their efforts.
Adding to the county's woes, a yellow fever epidemic in 1867 crippled La Grange, killing 240 of its citizens; and in 1869 and 1870, the Colorado River overflowed, ruining crops.
The local government was in disarray. Governmental activities were overseen by the Fifth Military District, and county officers were often deposed by military orders, causing county officials to change routinely. This very unstable condition ushered in corrupt political conditions.
Lawlessness was rife in La Grange. A local woman wrote in her diary on May 15, 1865: "Soldiers, masked and with guns, entered the store of a German a few miles from here and took sixty to eighty dollars' worth of goods. They threw down confederate bills for it, remarking that they were compelled to take dollar for dollar and he must." James Peden wrote that "things are worse now than before the war. Bands of robbers infest the county. There is no law here nor at all. And advise all who think of coming to Texas to stay away..."
Sources:
F. Lotto, Fayette County, Her History and Her People (Schulenburg, Texas.: Sticker Steam Press, 1902). Lotto, 139.
Diary of Miss Phelps in An Early History of Fayette County, Wade and Weyand, 264.
Letter, James Peden to Bettie Peden, February 10, 1868.