Footprints of Fayette
World War I
These histories were written by members of the Fayette County Historical Commission. They first appeared in the weekly column, "Footprints of Fayette," which is published in the Fayette County Record, Banner Press, Flatonia Argus, Schulenburg Sticker, and Weimar Mercury newspapers.
Century-Old Letter Reveals Concerns About WWI
by Annette Citzler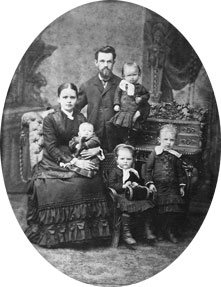 The impact of WWI was devastating for the entire country. A letter written 100 years ago reveals how German immigrants, who lived in a tiny community about three miles north of Rutersville, Texas, were equally as concerned about the war and how their lives were being affected, including my Citzler family.
This letter, written in September 1917 by Clara Jaeschke Citzler, my great-grandmother, was written in German script, which I roughly translated. She lived with her husband, Johann Emil, at the Citzler home place, along with their oldest son, Emil, his wife and two children, and the youngest son, Herman, who was 22 years old at the time the letter was written. Clara's letter was written to her middle son, Max, and daughter-in-law, Elsie, who lived with baby Arthur on a tenant farm owned by the Ehler family at Freyburg, about 15 miles south of La Grange. Clara (Koepke) and Laura (Tietjen), referred to in the letter, were two married daughters.
My edits and notes appear in brackets.
La Grange, 19th Sept. [1917]

Dear Children,

Now I wish to send you a few lines once again. We were so very happy that you, dear Max, were released from the military, and that the dear Lord grants that both of you can continue to live together a good life of love and peace. That you don't have to be separated from one another, as is the case with so many others now, for that we are also thankful to God. Here Alfred Bauer and Wessels in Rutersv. [Rutersville] must also go; Anna [Bauer] has already cried so much; Herman [Clara's youngest son] has also told him goodbye, and the parents [Alex and Anna Karges Bauer] are coming today to see him [Alfred] one more time.

It is really a sad and difficult time, and I am also glad that Herman is released [temporarily], although soon he will leave home, and it will be so bad for me, since all Papa's help is gone then, and will be missed so much; and we both will sit at the table alone; so it goes when one grows old. We received a nice letter from Clara [daughter] today. They had a nice rain there. On Sunday, Laura [daughter] was there with her little prince [Kurt Tietjen, born July 27, 1917], who now weighs 10 pounds. She wants to surprise you all soon too [with a visit]. How is your little prince [referring to Arthur, born to Max and Elise on July 8, 1917]? It is always too long until we can see you all again.

On Sunday we were in church, but there were so few people there! One really should wonder how the pastors have the courage to teach and preach to the people [referring to the war with Germany, and the fact that most pastors were German immigrants, who were often uncomfortable preaching in English, though preaching in German was frowned upon, if not illegal in some communities]. How glad one is to hear the word of God where one finds peace and rest! Dear Elsie, have you been busy in the garden again? I have cabbage and lettuce, cucumbers and kohlrabi, enough to make one fed up with it, but it's so beautiful to see!

All of you, come for Papa's birthday, if the weather permits! [Emil's birthday was September 30].

I would sure like to be at Clara's on Sunday for her birthday [September 23]. It's also our wedding day, 38 years married [she was one year off; family records say they were married in 1878, so it would have been 39 years]; we wish for a continued quiet life together blessed by God until we are called home to be with Him.

Have you seen [the article] in the newspaper, "What is a baby"? He is the father's rival for Mother's love. So be careful, Elsie, or you come too soon to the 10 commandments of Mother; it's nice to read, but still better to heed.

Emma Friedel is also here for a visit, staying one month; I visited her yesterday; she looks very well. It is really fortunate that you had your little prince, otherwise you too, dear Max, certainly would have had to go [to war] as expected. Now I must close and send you heartfelt greetings and for little Arthur a sweet kiss.

In love, your Mother
Herman Citzler, who was drafted into the U.S. Army in the fall of 1917, was the only family member who served in World War I. He seems to have been temporarily released, however, possibly to complete the cotton, corn or peanut harvest, with the understanding that he would return to his military duties when the harvesting was done.
Photo Caption: The Citzler Family in Germany—Clara holding Martha; Emil holding little Clara; Elizabeth, center front; Emilie, right; courtesy of Annette Citzler
Celebration - War is Won
by Sherie Knape
"Peace! The war is over" was shouted throughout the town of La Grange on November 11, 1918. After four long years World War I was over. When the good news came to La Grange at six o'clock that Monday morning the fire bell was sounded to spread the joyous news. Following the ringing of the fire bell, the courthouse tower bell and the church bells followed. People ran into each other's arms, hugged one another and wept for joy. A housewife so overwhelmed by the news passed into unconsciousness for a few moments. School children, who had been given the day off because of the celebration, marched to the East Side of the courthouse carrying flags and cheering. Mayor Robson spoke to the assembled crowd at the courthouse, directing his remarks to the school children, calling their attention to what peace truly means. Supt. Fleming of the public schools asked all to join in singing "The Star Spangled Banner," after which he addressed the parents of the children and then expressed the hope that with the advent of peace they would assist in making schools successful. The singing of "America" closed the morning's program. The celebrating continued with every available shotgun and firearm being used to make a joyous noise. Gasoline was cheap so autos were decorated with bunting and national flags and driven around the town. The folks in the autos were loaded with ox bells and horns, and every other noise making device that could be found. The celebrating continued throughout the day. Business was suspended for it was almost criminal to attempt to be commercial on that wonderful day. Very symbolic, and standing in plain view of all who passed the Heintze-Speckels Company's business houses, was a pigeon in a large cage, with feathers of white, and allied nations' flags hung about. It was great glorious celebration to end a horrible war. Another great celebration came that evening with a send-off for the boys on the last draft call of Fayette County. A program was prepared at the courthouse at 7 o'clock with seats arranged upon the lawn. Red, white and blue electric lights added background to the already enthusiastic crowd that had gathered. Bands played patriotic tunes and speakers uplifted the crowd with their heartening words. A large bon fire was started on the northeast side of the square after the completion of the program. The boys boarded the train and left La Grange but received word around Smithville that they could return. Throughout the war La Grange had been relieved that it had not lost one of its own in the fighting, but little did they know that the next day terrible news would come causing the celebrating to end and the mourning to begin.


See photo of November 11, 1918 celebration at TexasEscapes.com website
Hugo Ehlers
Sorrow - Soldier is Lost
by Sherie Knape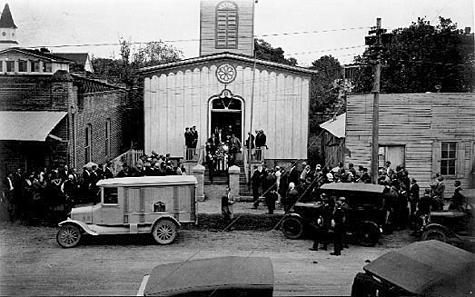 "Regret to inform you that Sergeant H.J. Ehlers fell in action" were the chilling words that Mr. Ehlers received in a telegram just one day after the glorious celebrations of peace that occurred on November 11, 1918 when World War I came to an end. La Grange had been relieved that it had not lost any lives to the fighting but now the town would have to grieve for one of its own. Private H.J. Ehlers, son of Hugo and Agatha Ehlers died while in service for his country at St. Etienne, France on October 10, 1918. Private Ehlers was a member of the Medical Corps, 143d Regular 36th Division. News of Hugo's death came to La Grange November 12, 1918, just one day after the great news that arms had been lowered and preparations for peace were underway. On November 13, 1918, after hearing the news, the La Grange City Council drafted several resolutions in memory of Private Ehlers. One of the resolutions stated that "the City of La Grange, named for the Home of that gallant Frenchman, Marquis de La Fayette, wishes to record before the world her part in the partial payment of America's debt to France, through the supreme sacrifice of our beloved soldier-citizen." The La Grange Fire Department also drafted resolutions of respect in memory of Private Ehlers, who was a fellow fire fighter, who "made the supreme sacrifice upon the battlefield of France, upholding the traditions of our forefathers with true Americanism". Jimmy, as he was known by his friends, was a La Grange boy who was loved and respected and was said to bring cheer to all he came in contact with. The remains of Private Hugo Ehlers were returned home to La Grange until 1921 and his funeral service was held on September 30, 1921. M.H. Arnold of Smithville conducted the service at the Presbyterian Church in La Grange. He was laid to rest at the New La Grange City Cemetery. The attendance for Private Ehlers service was large and included people from all classes. The Handel Club and associates sang hymns. After the service the procession to the cemetery included many soldiers, both army and navy, and a band. In a show of love and respect many flowers were placed upon his casket and gravesite. The American Legion Hall in La Grange was named the H.J. Ehlers Post No. 102, Department of Texas, in honor of Hugo Ehlers.

Photo from Hugo Ehlers' funeral courtesy of Fayette Heritage Museum and Archives
Dare We Forget WWI and the Service of our Fayette County Men
by Gesine (Tschiedel) Koether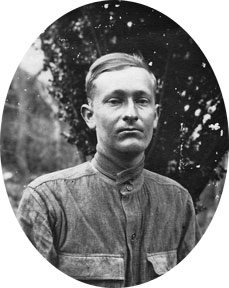 To my surprise, my cousin recently gave me the generous gift of our grandfather, Reimund Charles Henniger's, World War I (WWI) helmet. This gift prompted me to learn more. This article is not a history lesson, but an insight into how Reimund and our Fayette County men found themselves in WWI.
The United States reluctantly entered World War I (WWI) on April 17, 1917 when President Woodrow Wilson committed the nation to join the other Allied countries in their effort to defeat the central powers. On May 18, 1917, the Selective Service Act (SSA) was passed authorizing the President to increase temporarily the military establishment of the United States. The SSA System was responsible for transmitting to the governors of the states their responsibilities of managing the operation of drafting men for military service in WWI. The hope and intention of this draft was to raise our new army in a way that would leave as many agricultural workers as possible on the farms to keep the U.S. and its allies from starving.
Local boards were established in each state and for Texas it was setup by county. Fayette County was charged with the registration, determination of order and serial numbers, classification, call and entrainment of draftees. Thanks to the first of three draft registrations being published in the July 1917 issue of the La Grange Deutsche Zeitung and translated by Weldon Mersiovsky I found both my grandfathers' names. There was Reimund C. Henniger (#1243) and Elo Frank Tschiedel (#2265). In fact there in black and white are 2612 individuals' names.
This Draft Registration in Fayette County had those 2612 names randomly listed and numbered. The Local Board for Fayette County, composed of local leading civilians, issued draft calls in order of the numbers drawn in a national lottery and determined exemptions. Examples of exemptions included: a) draftee had dependents, b) alienage, c) religious beliefs, d) morally unfit, e) physically unfit and f) occupation listed as farming. Draftees in this WWI draft were prohibited from all forms of bounties, substitutions or purchases of exemptions.
On the Family Search site, I found both of my grandfathers' draft registration cards. Elo Frank Tschiedel's card listed an exemption from serving in WWI based on family to support, occupation as a farmer and was signed by W C Langlotz of Precinct 8 of Fayetteville, Fayette County. Reimund Charles Henniger's card listed him as single with no exemption; he was inducted in July 1918 with his card signed by Charles Behrens of Precinct 9 of Fayetteville, Fayette County. These cards show details on each draftee, including birth date, birth place, nationality, address, occupation, marital status and physical description.
The Fayette County library has a list called the Armed Service Records, which shows last name, first name, the war in which a person served and the branch of service. I hand counted all 870 names of men listed who met all the requirements to serve in WWI; 830 (95 percent) of these men entered the Army.
Our Fayette County men assigned to the Army were led by Major General John J. "Black Jack" Pershing, appointed by President Wilson. Pershing insisted that American soldiers be well trained and not be used merely to fill gaps in the French and British armies. Ultimately over one million U.S. troops were stationed in France and informally called Doughboys with the origin of this title unknown.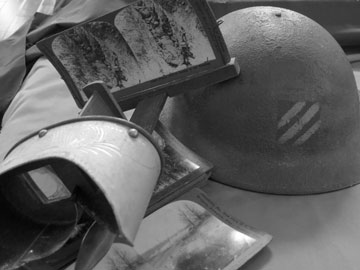 While wanting the troops to be well trained, sometimes adequate equipment was not always provided. WWI was a trench and tunnel war. At the outbreak of WWI, none of the combatants were provided steel helmets. Cloth, felt or leather headgear was common and offered no protection against WWI modern weapons. The large number of lethal head wounds by the French Army fighting this trench war led to the introduction of the first modern steel helmet. The first version was thought to be too shallow and made of too soft of a steel. Revisions made it of stronger steel, less light reflective and with better lining and rolled edges. The U.S. initially purchased some 400,000 helmets from Britain, but eventually began manufacturing the M1917 (U.S. version). My grandfather Henniger's helmet, a Brodie M1917 helmet stamped ZA178, shows the insignia for being infantry.
Chemical warfare added another dimension to new dangers in WWI. Lethal gases were deployed by German troops which wafted across the battlefields, sometimes being mistaken as fog. Often there were not enough helmets and gas masks to be issued to all, so our men faced conditions which resulted in some of them having life-long conditions related to head injuries or effects of gas exposure.
Traces of WWI fought in trenches and tunnels across the Europe are still visible today. Just as the European landscape still retains some of the evidence of WWI, we also hold precious memories of our Fayette County men who served in WWI. Some of us are fortunate enough to have photographs and other mementos that remind us of their valor. As a child, my mom would allow me to take out and look at the Stereoscope and pictures that had been her dad's. It wasn't until I was older that I realized these scenes were of the battles he fought in France. Reimund Henniger completed his service with the 38th Infantry on the battlefields of St Michel and Argonne Valley in France and returned home on the USS Louisville. He was one of the lucky ones who made it home to marry and have children, but unfortunately, he carried the long term effects of the poisonous gases until his death at 56 years old. One year from the one hundred year anniversary of WWI, we should never forget how much our Fayette County soldiers and their families gave during their service in WWI.
Photo captions:
Reimund Charles Henniger before leaving to serve in WWI in 1918, courtesy of Gesine Koether
Reimund C. Henniger's World War I helmet with stereoscopic slides of war scenes, courtesy of Gesine Koether

Sources:
Family Search, United States World War I Draft Registration Cards, 1917-1918
For more views of battlefields today, visit Smithsonian.com/sheil
http://gjenvick.bmobilized.com The Selective Draft questions and answers
www.fayettecountyhistory.org/world_war_i_draft_registration
The Price Fayette County Paid to End World War I
By Rox Ann Johnson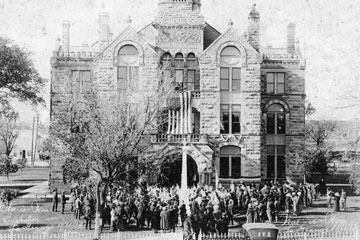 A century ago, citizens of Fayette County, as in most American communities, had hoped to avoid the Great War in Europe. Now known as World War I, the conflict began when German armies invaded Belgium and then France in August 1914. At first, no one thought the war would last more than a few months, since French and British troops had halted the German advance by November. However, fighting settled into a stalemate along the Western Front, a line of trenches stretching from Switzerland to the English Channel.
As the war raged throughout 1915 and 1916, millions of European soldiers died without bringing about any significant change in the battle lines. The United States tried to maintain its neutrality in spite of sympathy for the British side and anger at German submarine attacks against civilian ships such as the Lusitania. The decisive point came when Germany tried to lure Mexico into the war with the Zimmerman Telegram. In April 1917, the United States declared war on Germany.

That June, Fayette County's young men began registering for the draft. The summer months saw the first of them showing up for physical exams and, then, those who were not exempted from duty began receiving orders to report to training camps.
Some like Henry (or Jinrich) Samohyl, did not wait to be drafted. Samohyl enlisted in the U. S. Navy in May, but the following month, he was Fayette County's first casualty of the war, when he died of pleurisy at the naval hospital in Great Lakes, Illinois. Unfortunately, before the year ended, the crowded conditions in army training camps spread diseases that claimed numerous local men, like Ludwig Bauerkemper, Jesse Brown, Eugene Maeckel, Stephen Piwetz, and William Terrell. Then, there were the accidents. Charles Juren died in November 1917, when he was thrown from an army truck during basic training.
Most of Fayette County's soldiers did not begin to set foot in Europe until early 1918. However, there again illness, especially influenza, was most often the cause of death. Fayette County was not particularly hard hit at home by the worldwide flu pandemic. Yet, our healthy young men who went off to war were more than four times as likely to be struck down by disease as by bullets.
The last two months of the war, during the Battle of St. Mihiel and then the Meuse-Argonne offensive, brought the most combat casualties. Robert Adams, Otto Keilberg, Vladimir Kulhanek, Jaromir Michal, Herbert Schroeder, and Gustav Schulze were among those killed in action during the last two months of the war, and William Doms, Ludwik Dornak, Frank Freeman, Friedrich "Willie" Heinze, Louise Quade and Henry Schroeder all died of wounds during this period. Gustav Schulze was also killed in action, but a few months earlier.
As casualties mounted, tension increased at home. So it was with great relief when, at six o'clock on the morning of November 11, 1918, La Grange Mayor Guy Robson received word of the Armistice from Houston. The war was over. Immediately, the fire bell began to toll, then the courthouse tower bell, church bells, and steam whistles followed. As the news joyously spread, the populace began to gather at the courthouse. School children marched from the Old Casino Hall to the east side of the square where short talks were made and the bravery of Fayette County boys was remembered. Automobiles were decorated with bunting and flags and business in town was suspended. Throughout the day shot-guns and other firearms were blasted skyward, while cow bells, horns, and every other noisemaker imaginable were used to celebrate the end of the horrible war we had entered nineteen months earlier.
Unfortunately, word had not yet arrived that two more of Fayette County's young soldiers had been killed in action. On November 12th, it was learned that Hugo Ehlers of La Grange and Felix Wagner of Carmine had died in the final days of the war.
It has been determined that at least seventy-four of our young men paid the ultimate price of war. Nine were killed in action, six died of wounds, thirty-two died of disease on U.S. soil, three in accidents, and twenty-four died of diseases or other causes in Europe or en route to Europe.
However, the end of the war was not the end of the county's losses. Several of those who died in Europe of disease, like Jesse Jarmon and Luther Huff, were actually afflicted in the months after the war while Americans were still there trying to keep the peace. Finally, we need to remember the sacrifice of those young men who had been gassed, shell shocked, or severely injured. They returned home, but their lives would never be the same after the war.
Photo caption: 
This photograph of the spontaneous War is Won celebration at the courthouse on November 11, 1918 was taken by Louis Melcher. See it, along with uniforms, memorabilia and many more photographs in the current World War I exhibit at the Fayette Heritage Museum and Archives in La Grange.
Sources:
"Peace's Effect on LaGrange", The LaGrange Journal, November 14, 1918
Gregory Walker, La Grange, Texas
World War I files at the Fayette Heritage Museum and Archives
Related Links