Footprints of Fayette
World War II
These histories were written by members of the Fayette County Historical Commission. They first appeared in the weekly column, "Footprints of Fayette," which is published in the Fayette County Record, Banner Press, Flatonia Argus, Schulenburg Sticker, and Weimar Mercury newspapers.
Daniel J. Gully, Buried at Sea
by Sherie Knape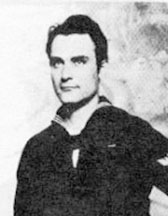 During World War II, many lives were lost on land, sea and in the air. This is the story of one navy yeoman who didn't come home. Daniel J. Gully was born on September 9, 1917 in Fayetteville, Texas. He was a graduate of Fayetteville High School. In 1941 he entered the navy where he trained in San Diego and served in Hawaii, Java, China, the Philippines and Australia. He was stationed aboard the submarine, the U.S.S. Harder. The USS Harder (SS-257), a Gato-class submarine, was the first ship of the United States Navy to be named for the harder, a fish of the mullet family. Her keel was laid down by the Electric Boat Company in Groton, Connecticut, on 1 December 1941. She was launched on 19 August 1942 and commissioned on 2 December 1942. One of the most famous submarines of World War II, she received the Presidential Unit Citation. The Harder was lost at sea on August 24, 1944. The following is a summary of its last hours: 
The Harder and Hake (another submarine) remained off Dasol Bay (Philippines), searching for new targets. Before dawn they sighted a Japanese minesweeper and a destroyer. As Hake closed to attack, the destroyer turned away toward Dasol Bay. Hake broke off her approach, turned northward, and sighted Harder's periscope about 600 to 700 yards dead ahead. Swinging southward, Hake then sighted the minesweeper about 2,000 yards off her port quarter swinging toward them. To escape the charging minesweeper, Hake started deep and rigged for silent running. Shortly she heard 15 rapid depth charges explode in the distance astern. She continued evasive action that morning, then returned to the general area of the attack shortly after noon. She swept the area at periscope depth but found only a ring of marker buoys covering a radius of one-half mile.
The vigorous depth charge attack thus ended the career of Harder, and she went down with all hands. The Japanese report of the attack concluded that "much oil, wood chips, and cork floated in the vicinity." Dubbed "Hit 'Em again, Harder," this intrepid submarine had created havoc among Japanese shipping. Her record of aggressive daring exploits became almost legendary. All six of her patrols were designated successful. She received the Presidential Unit Citation, and in accordance with Navy custom, it was presented to the second Harder upon commissioning. Daniel Gully and the other 77 men aboard were listed as missing in action or Buried at Sea. Their names are forever remembered on the Tablets of the Missing at the Manila American Cemetery in the Philippines.
Photograph from The Men and Women in World War II from Fayette County, compiled under the direction of Fayette County Judge Ed Janecka and printed by Schulenburg Printing and Office Supplies, 1995.
Seven Brothers in World War II
by Edward F. Janecka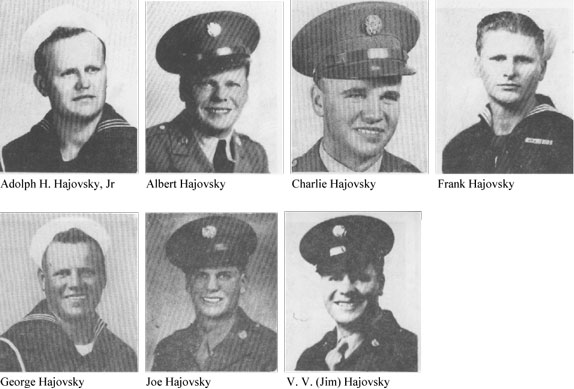 On Nov. the 8th 1911, Adolph Hajovsky married Antonia Muzny. They quickly went about farming in the Holman bottom and raising a family. They were blessed with 13 children Marie, Edmund, Jim, twins, George and Adolph, Albert, Frank, Charlie, Joe, Leona, twins Benjamin and Bernard, and Henrietta. They all worked on the farm at one time or another and over the years some got married and others pursued other endeavors. Life was good. But on Dec. the 7th 1941 the Japanese bombed Pearl Harbor and life would never be the same. Men all over the country were being called up and volunteering for the military and the Hajovskys were no different. The first Hajovsky to volunteer was Frank. Frank joined the Navy in 1942 and saw action on a destroyer in three major battles in the Pacific Theater. He was awarded AP, 8 battle stars, Victory, AT, and PL Ribbons. Charlie was drafted into the Army in 1942. Charlie was in the infantry saw battles on the Marshall Island, Guadalcanal, Luzan, and the Philippines. He was wounded on Luzon Island. Charlie was awarded AP, 4 battle stars a Purple Heart, OLC, AT, Victory, and PL Ribbons. Albert was also drafted in 1942. He was placed in the Army Air Corp and saw time in the European Theater. Albert was a tail gunner on a B-24. When his plane was shot down over Germany, he parachuted out and was captured. He spent 18 months in a P.O.W. camp but was liberated in 1945. He was awarded ET, Battle Stat, GCM, AT and Victory Ribbons. Joe entered the Army in 1942. He served in Europe and was awarded GCM, ET, AT and Victory Ribbons. Jim entered the Army in1943, and Adolph and George both joined the Navy in 1944. As the Korean War broke out another brother, Benjamin, was inducted into the Army and saw extensive combat in Korea. Upon returning from the war and even before entering the service, several of the Hajovsky brothers had already obtained ownership of Western Auto stores. Their wives ran the business while they were in the service. In 1936, George, at the age of 19, signed a contract for a Western Auto Store in La Grange. In 1938, Jim opened a store in Schulenburg. Adolph opened his Western Auto in 1939 in Caldwell. In 1940 Edmund started a Western Auto Store in Halletsville, and in 1941 Albert opened a Western Auto in Ennis. When the war broke out there was a moratorium on new stores but after the War they started back up again. Joe opened a store in Trinity which he later closed but then opened a new store in Luling. Albert opened another Western Auto in Franklin, sold it after some years there, and then opened a store in Cameron. Adolph Ryza who married Marie opened a store in Smithville. At the age of 19, Bernard started a Western Auto Store in Gonzales, and Benjamin was the last brother to open a store in Brenham. In all there were nine Western Auto Stores opened by the Hajovsky children. Charlie and Frank stayed and farmed in Holman. Leona married Bennie Kristek, and moved to Baytown. Henrietta married James Neiser and moved to Houston. There are many descendants of the Hajovsky family. Adolph and Antonia were blessed with 53 grandchildren, and at last count, 95 great-grandchildren. Adolph and Antonia Hajovsky truly had a remarkable family.
The Machac Brothers
SIX BROTHERS SERVE IN WWII
by Carolyn Heinsohn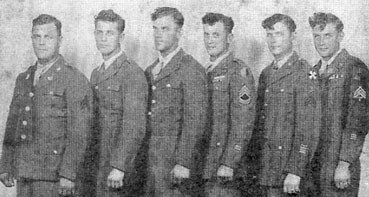 Most people have heard of the five Sullivan brothers who all served aboard the SS Juneau in WWII; unfortunately they all perished when the ship was torpedoed by the Japanese in November, 1942.  Few people know, however, that six out of ten sons of Paul and Josephine Krenek Machac of St. John near Schulenburg, Texas, served in the U.S. Army during WWII.  Fortunately, all six survived.
One can only imagine the stress experienced by their parents when all six were serving in the military at the same time, with the grim knowledge that any one of them, or all of them might not return home.
Joe Machac was the first of the brothers to join the Army in November, 1941.  He was trained as a rifleman and assigned to the 186th Regiment in the 41st Division.  After maneuvers in California, he was sent to Australia for amphibious training with the Australian Army. 
The 186th "jungleers" battled the Japanese in New Guinea, Papua, Southern Phillipines and the Bismarck Archipelago.  Receiving his discharge as a Private First Class in August, 1945, he made his home in Schulenburg, Texas, where he worked at a Ford garage.  He and his wife, Beatrice Kallus, had one daughter.
The second son to volunteer to serve in the U.S. Army was Ben, who was inducted in March, 1942, a few days before his 25th birthday.  He was assigned to the 90th Division at Camp Barkeley in Abilene, Texas, where he received training as a rifleman and was soon promoted to Rifleman Instructor 745.
After being shipped to England in early 1944, Ben landed on Normandy Beach June 7, 1944, the day after D-Day.  After 33 days of battle, Ben's platoon was captured by the Germans.  Following a series of events, he was finally able to escape and joined up with 102nd Division.  Soon thereafter, Hitler surrendered, and Ben Machac was on his way home. 
He received his discharge in November, 1945, with the rank of Technical Sergeant.  Ben also returned to Schulenburg, where he worked at the Western Auto Store and had a milk route.  He and his wife, Henrietta Lednicky, had two sons and a daughter.
The day after his 29th birthday in March, 1942, Henry Machac received his draft notice.  He was sent to Camp Barkeley in Abilene, where he was trained as a medic, assigned to the 1247th  Service Unit and transferred to a military hospital near New Orleans. 
Eventually, he was assigned to Staten Island, N.Y. to accompany wounded men from the separation stations to hospitals nearest their hometowns.  Henry received his honorable discharge in January, 1946, married Annalee Bartosh, had one daughter, and operated a Texaco station in Engle, Texas.
Fred Machac entered active duty in June, 1942, and was assigned to the U.S. Army Air Force.  He was trained as a butcher and served as a member of the 555th AAF Base Unit in Scotland for two and a half years.  He was discharged as a Sergeant in October, 1945, and returned to Schulenburg, where he married Helen Kokes and worked in a feed store.  He and his wife had a son and a daughter.
George Machac was drafted into the Army in August, 1942, just a few months before his 21st birthday.  After being qualified as a Rifle Sharpshooter, he was shipped to the Asiatic-Pacific Theater as a member of Company C, 223rd Engineers, with his primary duty being a construction machine operator.  He was involved with the building of airstrips, roads and campsites.  After three and a half years in the service, George was discharged in January, 1946.  He returned home to Schulenburg, married Mildred Genzer, had three daughters and worked at Barcher's Café.
Although the youngest son, Paul, was only 17 when his other brothers entered the armed forces, he knew that he would be drafted before the war came to an end.  He was inducted in September, 1944, at age 19 and was sent to Camp Hood.  After being trained as a Qualified Rifleman, Paul was assigned to the 106th Infantry Replacement Division and shipped to Europe.  After Germany surrendered, he was transferred to the 3rd Armored Division to guard captive German troops at a prisoner-of-war camp and then to the 1st Armored Division, where he served as a cook.  Paul was discharged in October, 1946, but signed up for the reserves, remaining on inactive duty until December, 1949.  After marrying Lillian Recek, Paul and his wife moved to Houston, Texas, where he worked at the Suniland Furniture Store for 47 years.  He and Lillian had two sons and a daughter. 
It was quite remarkable that all six of the Machac brothers returned home without injuries, which was a joyous relief for their family, who was thankful to be one of the lucky ones!
Photo of the Machac Brothers, left to right: Fred, Henry, Joe, Ben, George and Paul
Source:
Farek, Florence Hertel. World War II Memoirs, Houston, Texas: 1998.
World War II - On the Home Front
by Noreen Stavinoha
Along with the heightened mobilization of armed forces and hastened production of war material, Mr. and Mrs. Average Citizen and their children were asked to make serious changes to their way of life when we became involved in World War II. Coupon books were sent to each family, allowing the limited purchase of staples such as shoes, shortening, coffee and sugar. When stores received their allotted supplies of rationed goods, they would advertise in the newspapers. The day they went on sale, there were long lines of people wanting to buy their share. One to a customer, the ads stated.
We were asked to save paper and cardboard for recycling. Bacon drippings and other animal fats that could be used for the production of explosives were turned in to government collection centers.
Parachutes required the silk that went into women's stockings, so the ladies took very good care of the few they could buy. A runner didn't mean a stocking couldn't be worn any more; it was repaired. In true American fashion, there was soon a leg makeup available so the lack of hose wasn't obvious. Nylon stockings didn't come onto the American marketplace until after the war.
Women went to work doing the jobs the men left behind. Rosie the Riveter was a common figure on the posters and billboards, encouraging women to do their part. Other posters told us not to talk about troop or supply movements with the slogans like "Loose lips sink ships."
In record time automobile factories were changed from making passenger vehicles to military vehicles and tanks. With the military vehicles came a new word in the American vocabulary. The "general purpose vehicle" used by the Army was shortened to "g.p," and finally to "jeep," a vehicle still around today. New cars had to wait. Those lucky enough to have pre-war cars found their travel limited because of the shortage of tires and gasoline. The military had priority over public transportation as well, and every bus and train terminal in the nation has posters on the wall with Uncle Sam pointing his finger, saying "Is this trip necessary?'
Busses full of Fayette County citizens made weekly trips to San Antonio to give blood for the wounded, and some of those donors made the trip time after time.
Every family was encouraged to grow their own vegetables in a "Victory Garden." City folk who never gardened before learned to produce and can their own vegetables. Farmers who were already growing their own food didn't have to change that part of their lives, but a heightened sense of patriotism was now attached to it. Along with that, regular farm production increases were encouraged to feed the servicemen. A Crop Corps was organized to help increase production.
We were asked to save tin foil and tin cans. Cigarette and gum packages were the greatest source of tin foil, so children would look along the roads for discarded cigarette packages and gum wrappers to sell to collection centers. Some companies quit wrapping their products in foil, and that became part of the advertising.
Norman Rockwell made his own special contribution to the spirit of patriotism with his famous paintings on the cover of The Saturday Evening Post magazine, depicting the freedoms of speech, of worship, from fear, and freedom from want.
In those days before television, families huddled around their radios for the daily news from the front. Names like Walter Winchell, Gabriel Heater and Edward R. Murrow made the first ever-live broadcast from a war zone when he was sitting in a bomb shelter in London. Another source of news was the newsreel that always accompanied the feature films shown at the theaters. It didn't matter that the news was weeks – or maybe months – old by the time the audience saw it.
Government war bonds and stamps were sold to fill the national war chest. Banks sold bonds, and every school in the nation had the stamps and bonds for sale. Children would buy 10 cents or 25 cents stamps to fill a savings book, and when it was full trade in for a $25 bond.
In the early days of World War II, the Army and Air Forces were scrambling for places to train their troops. The military brass in Victoria for practice bombing picked Fayette County. After obtaining permission from farmers with vacant land, their pilots practiced dropping sandbag "bombs" in the pastures while ground troops ran through their war games below.
Troop and freight trains carrying personnel and war machinery rumbled through the county day and night, along with truck convoys on the highway. Young boys and girls were fascinated. Troops never lacked for supporting youngsters standing near the tracks, waving to them. The most welcomed trains of all, though, were the ones that brought our fighting men back home.
The Collection of Scrap Iron During WW II
By Carolyn Heinsohn
We have all heard or read about the shortages and rationing during WW II. There are still a few people living who experienced those times of privation. There was not only a shortage of gasoline and tires, rationing of sugar, coffee and other foodstuffs, but there was also a shortage of iron that was desperately needed for the nation's war efforts. Iron was needed for ships, artillery, tanks, amphibious vehicles, trucks and other equipment used by our military. Without the men working in the mines, iron ore was unavailable. The only recourse was to use scrap iron that could be melted down and re-purposed into military equipment. Other metals, old rubber and rags were also being collected for various military items.
Max Citzler, the Chairman of the Fayette County USDA War Board, made a plea for a final drive to collect scrap iron with an article published in the Schulenburg Sticker on June 5, 1942. It more than likely was also published in other newspapers in the county. The article states that the War Board had arranged for the purchase of scrap iron by merchants in 26 communities in the county. The iron would then be concentrated at several points along the railroad, loaded onto railcars and shipped directly to the mills that would turn out the war material.
Mr. Citzler sent a letter to each farmer in the county explaining the urgency of this drive and requested that an enclosed card be completed by each farmer stating how much scrap iron each farmer had and to whom it would be sold.
Leaders of the drive stated that the individuals designated to buy the scrap iron in the various communities had agreed to do so as a patriotic service. Any profit made would be given to the American Red Cross. A list of the various merchants in their respective communities was also included in the article.
The letter sent to farmers reads in part, as follows:
"In order to save you all of the time and tires as possible, we have arranged with a man in your community to buy your iron. You will notice that a responsible man has agreed to handle this job. He is a leader in your community and agreed to do this job with little or no profit. He is doing this for you. We feel that it is not necessary to call your attention to the fact that this scrap is needed in our war effort.
We ask you to search your farm from fence corner to fence corner and sell every available piece you don't need. If you don't have the time to handle this job on your farm, turn it over to the children on a share basis. However, it is your responsibility to see that the job is done. We are asking you to sell this scrap immediately, so on your first trip to one of these dealers take your scrap iron along.
You will not only pick up a little money, but will have rendered your country a valuable and patriotic service, and will do your boy or your neighbor's boy a favor, who is risking his life for you and your country. Your dealer will report the amount of iron purchased to the War Board. We are appealing to you in a patriotic manner, and we hope it will not be necessary to report any one in Fayette County for hoarding scrap iron.
The ceiling has been set on scrap iron and the prices are as high as can be offered in the community. Tin, galvanized iron and cable will not be bought."
In today's world of abundance and disposable goods, it is difficult to comprehend what our lives would be like without the availability of what we take for granted. Imagine what it would be like to be do without or to be forced to gather up certain items to be recycled with no excuses allowed. One wonders if we would be able to withstand the privations if we were faced with those demands again?
Source:
"Final Drive on Scrap Iron is Made by U.S.D.A. War Board"; Schulenburg Sticker, Vol. 48, No. 4, June 5, 1942