Mulberry Cemetery
Near St. John on Smith-Marek Road

FAYETTE COUNTY, TEXAS

29°38' 26"N 97°00'00"W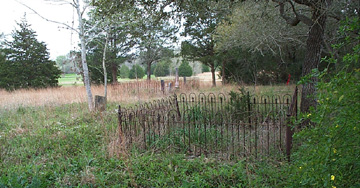 The Mulberry Cemetery is located at the site where the old Union Church and school once stood. The back part of the cemetery was said to be the burial place for as many as sixty slaves of former landowner Samuel Fitzgerald. It's interesting to note that there is a grave stone for Albert Seydler, 5 Dec 1865-7 Jul 1893, both here and also in the Bittner Cemetery. In 2013 someone placed new signage at the cemetery "Smith-Mulberry Cemetery, Est. 1857", though to the best of our knowledge it has been known as simply the Mulberry Cemetery throughout its history and is listed as such on county maps.
Please contact the county coordinator if you have additional information about this cemetery.
The cemetery survey and most photographs were contributed by Iris Rose Guertin. Charlotte Mitchell provided photographs of the Card graves.
FIRST NAME

COMMENTS

Born at Rostede, Germany

Age 65, 11 months

No death date

Husband of Emma Smith; birth year may be 1853 (hard to read)

Smith, Joseph Emmanuel

Co. B, 3rd Reg. TX Cavalry CSA

Smith, Prudence I.

Wife of Joseph Smith

Name is illegible

The following graves are located at the back in what is believed to be the black section of the cemetery:

Seydler, Albert

Colwell, James

27 Apr 1825

7 Mar 1886

Colwell, Willie

7 Mar 1877

24 Jul 1877

Colwell, Sin

17 Jul 1882

14 Oct 1888

Colwell, Erastus

1855

No death date
Colwell, Lula

This and the following four names are all on the same marker. No dates.
Colwell, Loretta

Colwell, Eddy

Colwell, Frankey

Colwell, Calley
Related Link