Mt. Olive African Methodist-Episcopal Cemetery
WEST POINT, FAYETTE COUNTY, TEXAS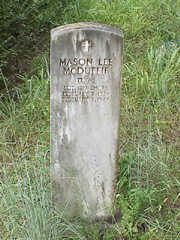 Taken from Mt. Olive M.E. Cemetery, copyrighted 1999, with the permission of the author, Norman C. Krischke.

This site was established in 1862, according to tombstone inscriptions, upon burial of A. Jeffson. It is located off State Hiway 71 at West Point 0.85 mile south of the highway on a private road called Justice Road. The site appears to be about 2 acres in size and is bounded by a barbed wire and cedar post fence with a gate at the SE corner. It is covered with brush and saplings.

The full report with maps is available in the cemetery files of the Fayette Heritage Archives.

Many thanks to Tonya Hettler for transcribing the following data from Norman Krischke's booklet for this site.
_____, stone tumbled, footstone: E. W.

__Duffie, Sedalia, 8 Feb 1891 - 28 Jun 1896, probably should be McDuffie
A
Anderson, Bobby L., 1931 - 1987, married Tommie Lee Jackson

Anderson, Edward C., 13 Sep 1956 - 19 May 1989

Anderson, Ernest Wayne, born 16 Nov 1960, stone buried, no data, son of Bobby L. and Tommie Lee (Jackson) Anderson

Anderson, George C., 1922 - 1970, MIL: US Army, WW 2
B
Burleson, Kissie, 16 Jan 1886 - 17 Jun 1921

C

Carmichael, Leola, 1915 - 1958

Carmichael, Mark Philip, 14 Mar 1891 - 22 Sep 1955

Carmichael, Ossie, 9 Aug 1885 - 22 Mar 1967

Coleman, Elley, 1853 - 1956, born a slave

Cox, J. B., 14 Jun 1878 - 25 Sep 1902
D
Drisdale, _____, aged 3 weeks, infant of Ella Drisdale

Drisdale, Louis, 1833 - 2 May 1869
E
Edmond, Sallie, 1909 - 1933

Edwards, F. D., 1867 - 8 Mar 1907
F
Fowler, Gretta, 1917 - 1981
G
Gooden, Beatrice Page, 5 Sep 1911 - 3 Jul 1971
H
Hart, Ellen, 1864 - 12 Sep 1912

Hollis, George, no data on stone

Hollis, Gus, 1 Apr 1866 - 25 Apr 1952, "Reverend"

Hollis, Ira Brown, 9 Jun 1899 - 28 Dec 1965, wife of Rev. Gus Hollis

Hontz, Charlie, 19 Jun 1887 - 7 Oct 1957, MIL: Texas, PVT, 20 Engineers, WW 1
J
Jackson, Alford, no data, unreadable

Jackson, Charlie, 1914 - 1976

Jackson, Hattie, 1926 - 1970

Jackson, Lizzie Mae, 14 Oct 1905 - 3 Dec 1996, father Albert McDuffie, mother, Sallie Moore

Jackson, Mollie, 1893 - 29 Oct 1936

Jackson, Rosetta, 1809 Mississippi - 1900 Texas, born a slave

Jackson, Rosie, 1918 - 1946

Jackson, Sarah, 1909 - 1995

Jeffson, A., _____ - 1862, first grave, born and died a slave

Johnson, Jessie Mae, 2 Jun 1923 - 11 Dec 1996, father Vance Jackson, mother, Lizzie McDuffie
L
Lara, Matt Rowals, 23 May 1903 - 29 Aug 1996

M

Marshall, Larnie, 12 Dec 1892 - 15 Jan 1962, Mil. Texas, Pvt, 4 Co., 65 Deport Brigade, WW 1, father John

Marshall, mother Virginia Grant

McDuffie, _______, no data, unreadable

McDuffie, Albert, 1855 - 13 Mar 1931, aged 75 years, born a slave

McDuffie, Alice, 1890 - 1952

McDuffie, D. C., 14 Apr 1895 - 26 Aug 1975, MIL: PVT, US Army, WW 1

McDuffie, Martin, 15 Sep 1883 - 12 Oct 1970

McDuffie, Mason Lee, 3 Feb 1893 - 13 Sep 1970, MIL: Texas, SGT, 1319 ENGRS, WW 2

McDuffie, Robert D., 4 Feb 1893 - 13 Sep 1970; MIL: Texas, PVT, Engineers, WW 1

McDuffie, Sallie, 2 Jun 1854 - 10 Dec 1955, born a slave, father Ceasar Moore, spouse of R. D. McDuffie

McDuffy, Alvin, 18 Apr 1889 - 7 Jan 1953, MIL: PVT, 509 SVC BN ENGR CORPS, WW 1

Merriweather, Emma, 1892 - 1974

Miller, Elijah, _____ - 26 Sep 1942, MIL: Texas, PVT, 157 Depot Brig, WW 1

Miller, Sarah, 11 Jan 1890 - 25 Apr 1964

Monroe, Anna Goodson, 15 May 1864 - 25 Apr 1935
P
Pendergrass, Pearl, 1911 - 1937

Phearse, Charles L., 26 Oct 1928 - 1 May 1996; MIL: PVT, US Army, WW 2, father Eldridge Phearse, mother Beula McDuffie

Phearse, Danielle Monique, 21 Jul 1980 - 27 Aug 1995, mother Jacquelyn Kay Phearse, dual stone with Floyd Lee Pearse, Jacquelyn's parents were Bobby Lee and Tommie Lee (Jackson) Anderson

Phearse, Floyd Lee, 6 Jun 1984 - 27 Aug 1995, father Floyd Spears (sic), mother Jacquelyn Kay Phearse, dual stone with Danielle Monique Phearse

Phillips, Donnell, 13 Dec 1943 - 15 Nov 1965, MIL: Texas, SP4, Co. C, 1Bn, Cavalry, Vietnam, Purple Heart

R

Ransom, Hannah, 1812 - 1875, slave, wife of Henry Ransom

Ransom, Henry, 1813 - 1875, slave
S
Simm, Edith, 17 Nov 1877 - 4 Jan 1954 name spelled as on stone, probably should be Sims

Sims, Apzella Beatrice, 18 Oct 1901 - 17 Jul 1918

Sims, Claude, 7 Oct 1889 - 2 Mar 1931, married Ethel Williams 10 Oct 1908

Sims, Marj., 1882 - 1883

Sims, Martha, 7 Jul 1877 - 7 Dec 1904

Sims, Nora, 9 Oct 1887 - 1945

Sims, Raymond, 2 Aug 1924 - 2 Jun 1926

Sims, St. John, 20 Mar 1897 - 22 Dec 1924

Sims, Wallac_, 9 Aug 1874 - 24 Jun 1967

Sims, Wallace, 22 Mar 1848 - 30 Jan 1925, born a slave

Sims, Walter, 2 Nov 1875 - 30 Jan 1925\

Smith, I. V., 1 Aug 1910 - 4 Jan 1958

Suell, Frances, 15 Apr 1912 - ______, Daughter, dual stone with Rhoda Wellington
T
Thompson, Amanda, 1 Jun 1845 - 23 Jan 1936, born a slave
W
Wellington, Charles, Jr., 1949 - 1994

Wellington, Rhoda, 4 Jul 1894 - 18 Mar 1980, Mother, dual stone with Frances Suell

Whipple, Will, ____ - 22 May 1931

Williams, Andrew Lee, 9 Feb 1929 - 24 Nov 1972; MIL: Texas, SGT, US Army, WW 2

Williams, Ann, unreadable - died 1919

Williams, C. C., birth not on stone - died 22 Mar 1912

Williams, Curtis, 3 Sep 1910 - 5 Mar 1965, married Gussie Merel 6 May 1934

Williams, David Earl, 26 Sep 1950 - 8 Jan 1998, MIL: PFC, US Army, Vietnam

Williams, Elo, 26 May 1897 - 19 Apr 1969, MIL: Texas, PFC, Co. E, 328 SVC BN, QMC, WW 1

Williams, Eva Lee, 18 Jan 1925 - 1 Jul 1994, father Eldridge Phearse, mother Beula McDuffie